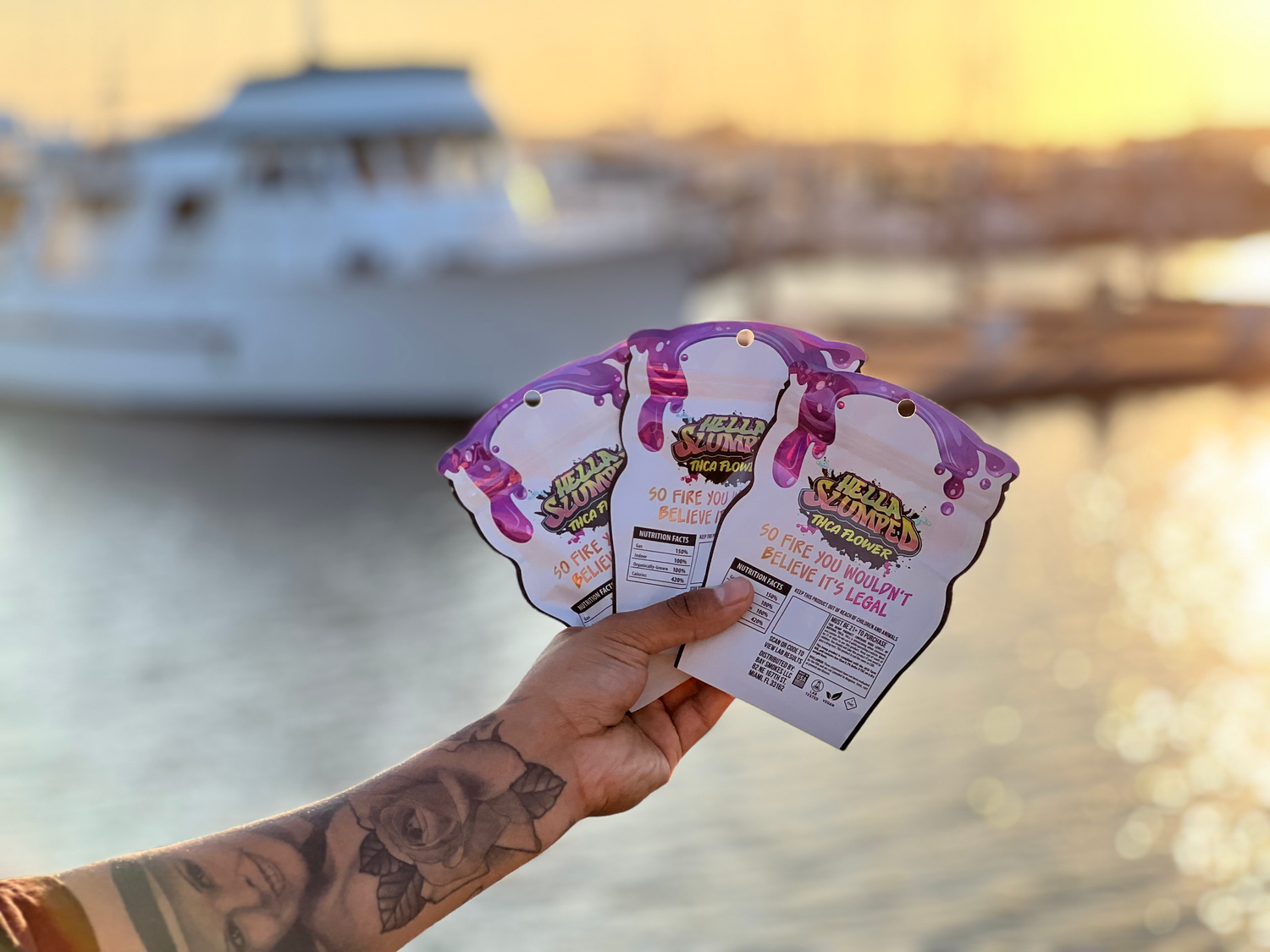 THCa Flower
Thanks to the farm bill, we are able to ship our exotic craft cannabis products under hemp laws. THCa flower is the same as natural cannabis, but there are extra regulations for THCa hemp flower than there are for recreational marijuana.
Hella Slumped FAQ
How Is This Legal?

The Hemp Farm Bill of 2018 made cannabis with <0.3% Delta 9 THC, federally legal. This means interstate commerce is allowed! Each state has their own laws, but most of our products are compliant across the entire United States and ready to ship!

Legal Disclaimer: This is not legal advise however, you need to talk to a lawyer to get real legal advise.
How Fast Is Shipping?

We ship usually USPS, sometimes UPS. Either way, the pack leaves from our warehouse in Florida and gets to most of the east coast within 2-3 days. We ship at multiple times throughout the day but if you order before 2pm EST, the pack will probably ship the same day. Otherwise it will ship next business day. We ship Monday-Friday only, not on weekends. If you have any questions or concerns at all about your order, just reach out here and we will help you. Thanks for your trust and support fam. 🙏
Quality Guarantee?

Our products are the most exotic and premium that cannabis has to offer. If you don't love the products, we will replace them or refund you. No one is disappointed with our selection of rare top shelf exotics. Learn more about the quality guarantee here.
Will This Get Me High?

Yes! These products will absolutely get you high. All the flower is natural grown THCa cannabis-hemp. This is the same thing you buy from dispos and dealers. Except we're growing it under a hemp license and getting the necessary testing to ensure compliance.

The Rosin and Live Resin pens are the same or higher quality that what you would find in dispos. We LOVE rosin, so we make sure to only supply the best.

Consume responsibly! Do not drive or operate heavy machinery etc. Be safe and spread love. Enjoy fam🙏
What Is THCa?

THCa is regular THC. Cannabis and Hemp naturally grow THCa as it is the "live" version of Delta 9 THC. All dispensary and medical cannabis contains 20-30% THCa, just like the exotic THCa flower on our site.

The live rosin and live resin carts also contain THCa because the extraction is done in cold temperatures. THCa turns into Delta 9 THC when heated, so this must be avoided for hemp products so they remain federally legal.